Crypto Airdrop: What Is It and How Does It Work?
Airdrops distribute tokens/cryptocurrencies to users for free as a marketing strategy by new companies in blockchain to generate engagement and liquidity. If the asset appreciates, the receiver can profit. UNI airdrop in 2020 appreciated by 1,000% in 6 months.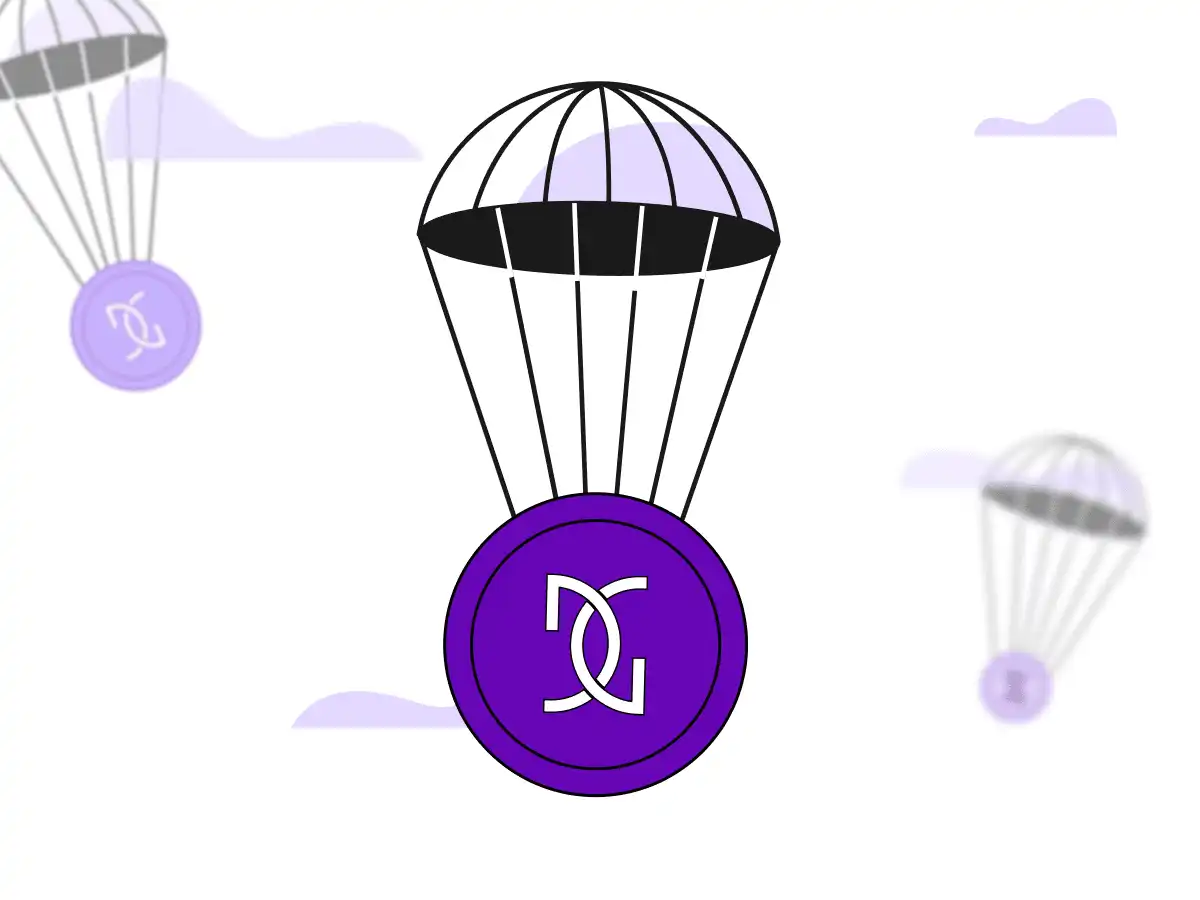 An airdrop is a flashy promotional format used to launch a token or cryptocurrency. In a crowded cryptocurrency ecosystem, giving away free assets is one of the best ways to get noticed. Almost daily, there are new cryptocurrency airdrops, some easier to obtain than others. However, not all airdrops are equally reliable. Learn what airdrops are and how to take advantage of safe opportunities!
What are cryptocurrency Airdrops?
An airdrop is a distribution - usually free - of tokens or cryptocurrencies to users. This action is a marketing strategy adopted by new companies and projects in the blockchain industry. The goal is to attract people interested in the brand, generate engagement, create liquidity for an asset, and increase its value in the long term.
The person who receives the token can profit if the project grows and the asset appreciates. This happened, for example, with the beneficiaries of the decentralized exchange Uniswap's (UNI) airdrop, which in 2020 distributed 400 UNI tokens to each eligible participant. In about six months, the crypto asset appreciated by 1,000%.
How crypto Airdrops work?
In general, airdrops work in two ways.
Announced: in this case, projects announce a date for the token distribution. They also publish information and rules on their websites, blogs, or social media, generating buzz around the action.
Unannounced: There are also cases of companies that make no announcement and send tokens only to selected wallets. The idea with this type of strategy is to win users through surprise.
Types of Airdrops
There are at least four main types of airdrops.
Standard
This is the most basic type. In a standard airdrop, tokens are distributed for free and you don't need to take any specific action. All you need to do is create an account somewhere. There may only be a certain amount of tokens available for the airdrop, so you need to act quickly. 
This is how $DGTA tokens airdrop's works. Clients from the crypto exchange igitra.com get a certain amount of $DGTA as soon as they verified their account. The amount distributed decrease as the number of clients increases, so early users get more tokens. Learn more!
Reward-based
In this type of airdrop, users need to perform some pre-established tasks, such as sharing a post or following the project on some social network. When receiving the tokens, the person needs to prove that they have completed everything that was asked and present some evidence.
Exclusive
Exclusive airdrops are intended for specific groups of users. In general, the chosen communities are made up of engaged and loyal people to the projects.
For holders
In this style of airdrop, projects allocate tokens for holders (or "hodlers," in crypto slang) - a term used in the crypto world to identify people who hold their assets in their wallets. To participate, investors need to have a specific amount of a certain crypto in the wallet, previously defined in the action.
How do NFT Airdrops work?
While most airdrops are focused on cryptocurrencies, there are also airdrops where you can obtain non-fungible tokens (NFTs). Like cryptocurrency airdrops, NFT airdrops can be organized for promotional purposes. If you want to qualify for an NFT airdrop, there are several ways to do so.
Sometimes you need to perform certain tasks, just like with cryptocurrency airdrops, but the token issue can also be done through a lottery. Additionally, you may also need to own another non-fungible token from a specific NFT collection to qualify for the airdrop. For example, Bored Ape Yacht Club (BAYC) NFT owners received ApeCoin tokens as airdrops. NFT airdrops can also involve risks, as airdrop phishing occurs with NFTs as well. Therefore, always make sure to participate only in trustworthy airdrops and never share your data.
The Most Famous Airdrops
Thousands of airdrops have been launched since the emergence of Bitcoin (BTC) in late 2008. Check out some main ones below:
Auroracoin (AUR)
In early 2014, Iceland did the first airdrop in the market. The country distributed 31.8 Auroracoin (AUR), a digital currency created as an alternative to Bitcoin, to part of the population. The experiment didn't go very well. According to a CoinDesk article at the time, the asset price lost 50% of its value after the event, dropping from $11.93 to $7.26. In early 2022, one AUR was worth $0.1.
Stellar (XLM)
In late 2016, the Stellar Development Foundation distributed 19 billion XLM - equivalent to 19% of the crypto's total circulation at the time - to BTC holders. In early the following year, the company sent another 16 billion tokens to the same audience. At that time, an asset was worth less than $0.002. Five years later, it jumped to $0.1 - a 4,900% appreciation.
Uniswap (UNI)
In September 2020, decentralized exchange Uniswap sent 400 UNI to each user who had used its platform before that month. At the time, according to Coingecko, one unit of the asset was worth $3.44 - meaning each person received almost $1,400.
In the following six months, the crypto appreciated 1,000%, jumping to $42, and those who held it ended up with the equivalent of $14,000 in their wallets. However, the UNI token has since declined and, in early 2022, was trading at $9.14.
Ampleforth (AMPL)
In April 2021, the Ampleforth protocol sent its new governance tokens, called Ampleforth Governance Token (FORTH), to anyone who had AMPL, its other asset, in their wallet. Nearly 76,000 wallets were eligible. FORTH, however, suffered a sharp devaluation in the months following the airdrop, dropping from $48.95 that month to $6.84 in early 2022.
Are crypto Airdrops safe?
Cryptocurrency airdrops may seem harmless and safe, but that's not always the case. Scammers have found ways to deceive people through airdrops and steal cryptocurrencies or private keys.
Stay alert and pay close attention to airdrops, especially when large amounts are promised that seem too good to be true. It's important to remember that it's never advisable to connect your cryptocurrency wallet to an untrustworthy party or share your private keys.
There have even been fraudulent airdrop schemes where scammers deposited cryptocurrencies. These tokens were fake and couldn't be sold. To ensure that you don't fall victim to a scam, it can be helpful to research the team behind the cryptocurrency project and find out what others think. 
DGTA token Airdrop
Digitra.com is a global crypto exchange that is using utility token airdrop to attract new users. According to the project whitepaper document, DGTA is backing new user incentive and others unique benefits of the platform, such as Zero Fees and Trade to Earn. 
The amount of DGTA used for these initiatives is limited, thought. Only 21% of the total amount is being using to that. Also, Digitra.com intends to burn up to 50% of the maximum supply of DGTA issued, with the amounts determined based on the platform's commitment to maintaining a stable marketplace for DGTA holders.