What is DOGE? A lead to DOGE
DOGE is a digital currency created in 2013 with inspiration from the meme featuring a Shiba Inu. It increases under the social media frenzy.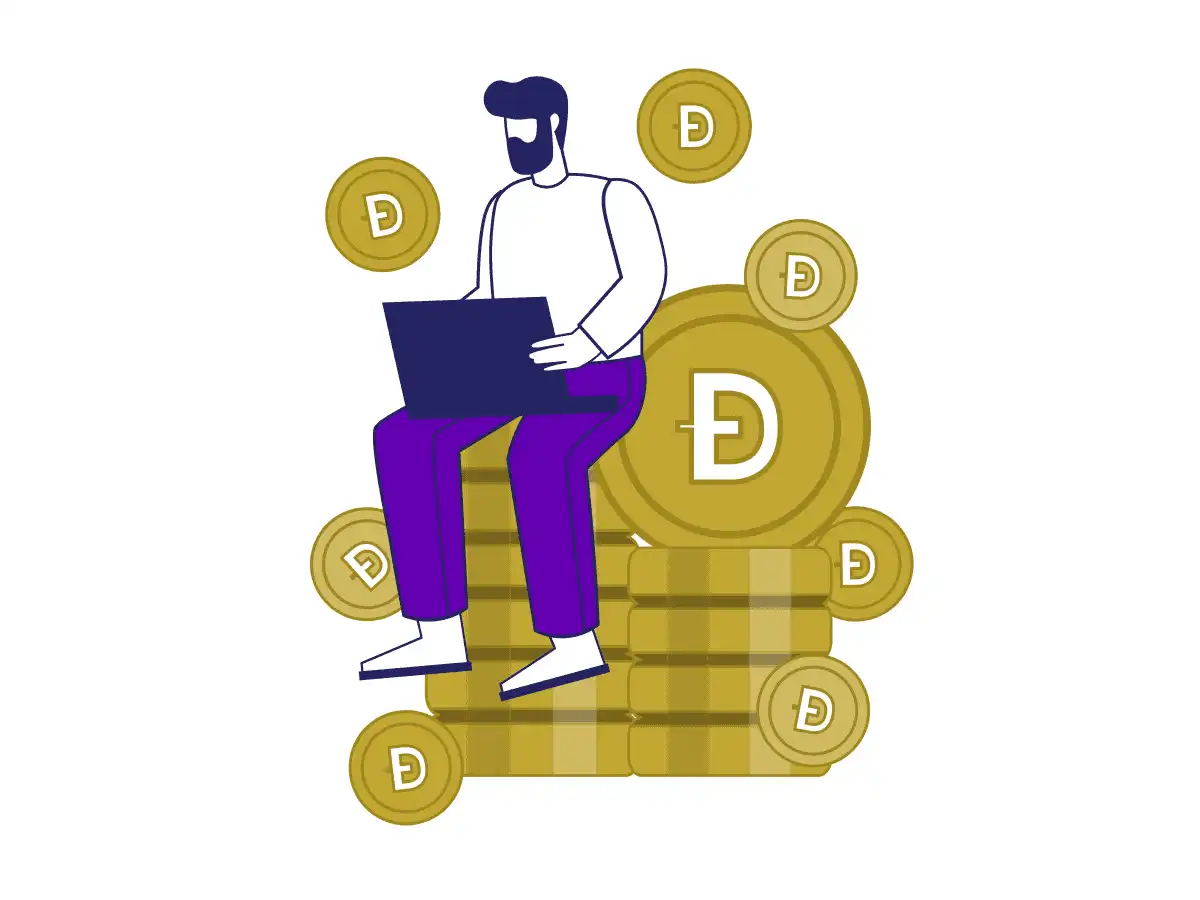 Dogecoin (DOGE) is a type of digital currency that was made in 2013 for funnier than serious reasons. The "Doge" meme, which depicts a Shiba Inu (a Japanese dog breed) resting with its paws curled over, served as inspiration for the cryptocurrency. The image of the dog is overlaid with text promoting nonsense grammar.
Dogecoin was heavily influenced by the strange and funny nature of the early cryptocurrency community, which formed around 2009 when Bitcoin (BTC) came out. Since then, there have been dozens of new crypto assets, many of which promise more privacy.
Due to the fact that Bitcoin is open source, has led to the creation of other cryptocurrencies and blockchain networks. After Litecoin (LTC) and Luckycoin (LKY) were created from Bitcoin's code, Billy Markus and Jackson Palmer used Luckycoin's code to make Dogecoin in just a few hours.
Applications of Dogecoin
Dogecoin has had a dedicated following for quite some time, but the hype around the cryptocurrency in 2021 caused its value to skyrocket. Yet, the coin itself lacks any striking characteristics that would make it the dominant currency or store of value across the globe.
It's puzzling that Dogecoin hasn't made it to the top as a major currency. Maybe the most important factor is the abundance of Dogecoin. There is no maximum number of coins that may be issued with this currency. The value of Dogecoin is artificially depressed by the fact that 14 million more are produced every day. Bitcoin, on the other hand, has a clear scarcity because there are only 21 million coins.
Dogecoin, on the other hand, could be used as a way to pay for things or give tips, both online and in person. Its price in U.S. dollars is substantially cheaper per unit than the price of other cryptocurrencies like Bitcoin, so users may make transactions with full amounts rather than fractions of Bitcoin.
Yet, Dogecoin's cheaper unit price, greater popularity, and faster transaction speed give it an edge over Bitcoin as a possible medium of exchange. Also, the coin's community has helped make DOGE more approachable to the public.
Because of its superior technological design, Dogecoin is able to process transactions far more quickly than Bitcoin. Every 10 minutes, a new block is mined on Bitcoin's network. Every block on the Dogecoin blockchain is confirmed in under a minute. Dogecoin's blockchain produces more blocks in the same amount of time than Bitcoin's blockchain does, despite the fact that each block on either blockchain is one megabyte in size. While Bitcoin's slow transaction times have been noticed in the past, the currency is now mostly seen as a store of value.
Social context and media frenzy
In 2020, people on the social media app TikTok heavily promoted Dogecoin because they thought its value would go up. In 2021, Dogecoin attracted a lot more attention, including from the Reddit community WallStreetBets. (The collective is infamous for affecting Gamestop's stock price in early 2021). One "WSB Chairman" on Twitter wondered aloud whether Dogecoin had ever topped the $1 price mark around the time when GameStop stock jumped in January 2021. The tweet caused a $0.07 increase in Dogecoin's value.
It's also possible that Tesla CEO Elon Musk's tweets on Dogecoin in 2021 helped propel the cryptocurrency to prominence. Tweets varied from commentary on the coin's creation to a parody with Musk's head on Rafiki's body and the head of the Doge dog on Simba's body, both from the Disney film The Lion King.
Reddit is only one of several social media sites where discussions about Dogecoin thrive. Searches for "Dogecoin" on Google spiked, conversations about it trended on Twitter, and major news outlets covered it during its 2021 boom.
DOGE's fees and allocation
Dogecoin's Github page has been regularly updated to reflect the asset's ongoing technological development.
Dogecoin's fees are still a selling element, even after all of its progress. Its transaction fees peaked around May 2021 at about $2.52, which is high compared to earlier and later times. As compared to the transaction costs observed in other cryptocurrencies, they are rather low.
While there are a lot of DOGE coins in circulation, a significant fraction of the total supply is held in a few wallets. There are around twenty Dogecoin wallet addresses that hold roughly half of the asset's entire supply.
How to buy $DOGE?
$DOGE is available on different crypto exchanges, such as digitra.com. This exchange offers zero fees for spot market trading for those who hold $DGTA, the exchange's native token. Additionally, digitra.com offers an airdrop for new users, where anyone who signs up and verifies their account will receive 50 $DGTA tokens. This amount is enough to guarantee zero fees for all trading pairs, with no limit on the trading volume. The $DGTA token is also distributed daily among clients who trade on the platform, so you can accumulate more $DGTA in your wallet as a reward for trading on Digitra.com. Click here to download the app and open your account!