What is Uniswap? A lead to UNI
Uniswap (UNI) is a top DeFi token in Uniswap Protocol, one of Ethereum's largest decentralized exchange (DEX) projects. With a market cap of $5B, UNI is the 7th largest ERC-20 token. DeFi is disrupting traditional finance with new concepts that are worth exploring.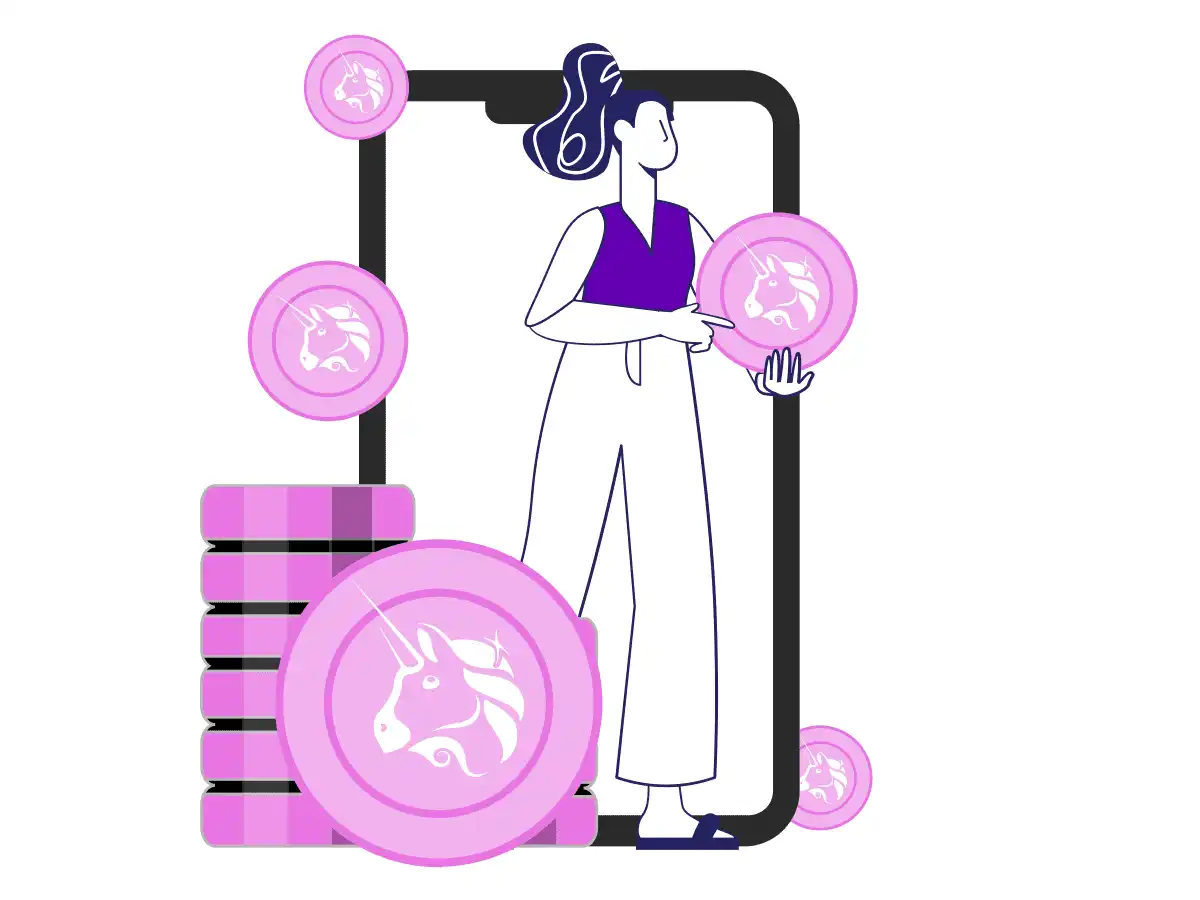 Uniswap (UNI) is a DeFi token that belongs to the Uniswap Protocol. The Uniswap Protocol is one of the biggest and most well-known decentralized exchange (DEX) projects that run on the Ethereum network.
The UNI token follows the ERC-20 standard of the Ethereum network, and it was launched in September 2020. Currently, it is the seventh-largest token in terms of market capitalization among those that follow this standard, with a total of over $5 billion.
Uniswap is one of the most important projects in the world of Decentralized Finance (DeFi), and many other projects have tried to copy its success with users.
Decentralized Finance represents a major disruption of traditional financial models and is still in the early stages of adoption. The sector has introduced a series of new concepts that are necessary to fully understand how the systems and their tokens work.
What is Uniswap?
Uniswap became well-known because it was the first decentralized exchange (DEX) that worked well. This made it possible for many other DeFi cryptocurrencies to be created.
The protocol works with an AMM (automated market maker) which is a way for these exchanges to make trades without pairing buyers and sellers. Instead, investors provide liquidity to the market, allowing transactions to occur automatically through liquidity pools.
How Uniswap was created?
Uniswap is a decentralized exchange created by Hayden Adams, a young engineer who became interested in programming for the Ethereum network after being laid off from his first job in 2017.
He spent months studying Ethereum, Solidity (the native programming language of the blockchain network), and JavaScript before creating an automated market maker in a post on the Reddit forum.
After developing a smart contract that allowed for simple exchanges between ETH and UNI, he began presenting Uniswap at Ethereum community events, and the project started to gain traction. The team continued to improve the system, with the launch of the UNI token in September 2020 being the culmination of their efforts.
How Uniswap Works?
Hayden Adams and his team were successful in creating a user-friendly example for the Ethereum network, as well as establishing a standard for this new market, which has been widely copied by many other projects.
If you understand how the Uniswap (UNI) token works, you will have a good foundation for understanding new projects and the entire ecosystem of Decentralized Finance (DeFi).
So, let's review some important concepts:
Decentralized Exchange - DEX
The Uniswap protocol is a decentralized exchange (DEX), which is a platform for trading cryptocurrencies that is run by its users. Users provide the liquidity that makes transactions possible.
Users buy and sell directly between themselves, without a broker to verify transactions and match investors. Trades happen through smart contracts, self-executable programming language contracts that execute based on the parameters established in their code.
Unlike a centralized exchange, where platform access is typically done through a login and password, in a DEX, the user needs a digital wallet to connect to the system.
With cryptocurrencies in their wallet, users can interact directly with the protocol, buying and selling tokens, or seeking ways to earn passive income through loans, deposits, mining, or providing liquidity, which is known in the crypto market as farming.
Advantages and Limitations of DEX
Even though it has made the user experience easier with a simple and easy-to-understand interface, Uniswap has not made it easier for the general public to use DeFi. This is because there are some operational difficulties, such as the need to know how to use a wallet and other things that not every investor has learned to use.
So, this type of operation is only recommended for users with a lot of experience, because it comes with a lot of risks, from operational mistakes to smart contract security issues.
Moreover, the Ethereum network has become very expensive over the years, and while there is significant network usage, prices will remain high, which limits costs for small investors.
In this way, Uniswap is already changing to be compatible with 2nd layer networks (Layer 2). These are blockchains that run in parallel to the main network, which in this case is Ethereum. They talk to the main network to send transactions in batches, which helps to make the network less crowded.
What is Uniswap and UNI for?
Uniswap tokens (UNI) serve primarily as a governance tool. All UNI token holders have voting rights on any proposals for protocol improvements put forward by the community. Investors can even put forward changes themselves with a certain number of tokens, and the community will then vote on them.
This system of self-governance helps to decentralize decision-making about the future of the project. The majority of the community must agree to any changes to the protocol, whether they are to its operation or the introduction of new products.
The Uniswap protocol itself is one of the most popular projects in DeFi, allowing fast and convenient exchanges of almost any ERC-20 token. This allows for decentralized investment in a wide range of assets.
UNI investors benefit from the project's large and active community, as well as its proven success. Over 1.5 million wallets have interacted with the network, with more than 62 million transactions worth over $386 billion. The protocol currently has a Total Value Locked (TVL) of $2.56 billion, demonstrating its potential in a still-emerging market.
UNI holders also have a say in the project's governance, which is important as the protocol continues to evolve and improve.
Where can I buy UNI coin?
You can use crypto exchanges like digitra.com, a global platform that offers $UNI with zero trading fees for those who hold $DGTA, the exchange's native token. Additionally, Digitra.com offers an airdrop for new users, where anyone who signs up and verifies their account will receive 50 $DGTA tokens. This amount is enough to guarantee zero fees for all trading pairs, with no limit on the trading volume. The $DGTA token is also distributed daily among clients who trade on the platform, so you can accumulate more $DGTA in your wallet as a reward for trading on Digitra.com. Click here to download the app and open your account!